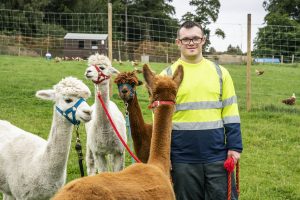 Camphill School Aberdeen have become our latest Lasting Difference Symbol holder, recognising their commitment to organisational sustainability. This forms part of a wider piece of work for the team as they also review their role in environmental sustainability, social responsibility and the wellbeing of staff, volunteers and students.
The team are using a lateral leadership approach to this development, having created a sustainability action group with representation from across the organisation. They have developed their own self-assessment tool, drawing on some of the principles from the Lasting Difference and Lasting Leadership guides. They'll be using this to involve their teams in identifying priorities. They'll also be using the Lasting Difference self-assessment to review their sustainability as an organisation. This will then feed into a new sustainability plan for the organisation.
We look forward to following their progress on their sustainability journey.