Scotland's International Development Alliance were our first partners in online learning, reaching their members from all over the globe in 2018. Things have developed rapidly in the sector since then, and even more so since their Effectiveness Toolkit was created in 2014.
We are extremely proud to have been invited to shape the new toolkit and to be supporting a series of events to help members make the most of it.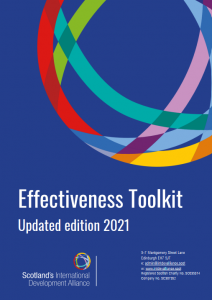 Drawing on Alliance member expertise and Lasting Difference principles, we can't recommend this new effectiveness guide highly enough!
The Effectiveness Toolkit is a straightforward development tool that supports organisations to review their work against a set of international development and organisational good practice principles.
This revised edition has been thoroughly refreshed with the support of Alliance members and stakeholders. It helps you assess priority areas for action and plan for continuous improvement, with useful tips, resources and guidance in five core areas:
Purpose
Governance
Impact
Sustainability
Development
These are underpinned by a clear set of principles and supported with self-assessment templates, action planning guides and links to other helpful resources and websites.
The Toolkit is available to Alliance members here https://www.intdevalliance.scot/resources/effectiveness-toolkit
Bookings for the Effectiveness Toolkit workshop on 13th October 2021 can be made here:  https://www.intdevalliance.scot/events/event?id=283
We are especially pleased with the end product – from the clear branding through to the accessible format and content – the highest quality of work. I particularly liked the way that our new Toolkit drew in the expertise and knowledge from Lasting Difference, with an international development lens. Working with Wren and Greyhound has been a really inspiring experience, with your expertise and enthusiastic 'can do' approach and translation of this into an outstanding product which is exactly what we were hoping for.
Philippa Ramsden, Effectiveness and Learning Manager,