We've been working on this one since spring but are finally ready to share!
Our new strategy is out now and available for download below.
This post contains everything else we couldn't fit into the two-page summary!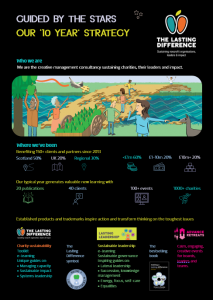 Download the strategy here.
What's happening and why?
We're continuing the trajectory we've been on since 2019, of giving our guides and resources the attention they deserve.
We want them to benefit as many people as possible, to build sector capacity and manage demand for our work. We want to focus on the things that only we can do. The knowledge and values that are uniquely us.
As individuals and as a team, we want to use our precious time on this earth as fruitfully as we can.
What's changing?
From January 2023 we will have just three strands to our work, focusing solely on:
Lasting Difference programmes and workshops – making them available as widely as possible.
Charities and contracts that relate to our core concepts, ideas and resources.

Partnership programmes that use our knowledge and learning to improve sector capacity.
From November 2023, Jen will head off in a new direction and Graeme will continue the company's work alone, with Wren's help with e-learning behind the scenes.
In Graeme's words:
First of all, thank you to everyone who has supported my vision over the last 10 years! And to the clients and partners who let us sound them out about our new direction. You've told us that:
You back our renewed focus on core content and messages
You know they're much needed right now
You want to keep working with me or Jen in some capacity!
This means a lot. Mostly we're making these changes for positive reasons – a new vision for what we do in life. But we're also  honest about the need to manage our own energy and capacity. The pandemic affected everyone and we're no different.
There was a moment of relief when Jen and I shared this honesty with each other. We'd been thinking the same thing: if we didn't change something, nothing would change. We're still pursuing the same vision, we're just doing it separately. We've no idea what it'll be like not to have each other there every day. But we'll always be there for each other – and for the people and sector we love.
In Jen's words:
What to do when you find yourself caught in your own lasting leadership paradox?
After two(ish) years of the pandemic (homeworking and not seeing lovely faces in real life), finishing my MBA – and turning 50 (I know, hard to believe right?!) – I knew I wanted to do something about my work / life balance. BUT…
I love my work, my colleagues and the amazing organisations we work with! What should I do about my paradox??
First, speak to my brilliant colleague Graeme – share the paradox honestly. Turns out we felt the same and started creating our exciting (separate) futures, together.
Two, think about how I balance making a difference in a sector I love with my other dreams (of travel, being in nature). Sound out our ideas for the future with some of our lovely clients and partners (a huge thanks to you all!).
Three, give myself permission and space not to rush into big decisions about what my future might look like beyond November 2023 (not easy!).
The last six years working with Graeme, Jenny and associates, and the organisations we have the privilege to support have been some of the best in my life. And for the next 12 months, I'm lucky to be able to keep doing the work I love with the people and organisations I love at The Lasting Difference. Beyond that, the relationships that have been built and amazing work continue, but it will just look a bit different. It's a journey, not a destination – and I'm excited about what the next turn in the road is going to bring for us both!
Why November 2023?
This date is:
Our 10 year anniversary of registering as a company (though we've been going in various forms since 2006)
The end date of one of our most important ongoing contracts (with a client who was also one of our first)
Enough time to conclude current client commitments (again, nothing changes for existing clients, we're committed to all of our current contracts!)
Enough time to give us space to develop whatever comes next for us
Enough time to prepare a legacy
Enough time to communicate it with people. Like this! Hope it all makes sense, but let us know – you are the stars we navigate by.