The first five charities have been awarded The Lasting Difference® symbol in recognition of their commitment to organisational sustainability. This new symbol, launched in June 2019, allows organisations to demonstrate they are committed to taking action on organisational sustainability and working to best practice in the field.
Bobath Scotland, Chest Heart & Stroke Scotland, Dyslexia Scotland, Support in Mind Scotland and Victim Support Scotland have all used ideas and resources from the Lasting Difference toolkit in creative and exciting ways to support their sustainability and impact. In recognition of this commitment to lead best practice in the field, they are the first five organisations to be awarded The Lasting Difference® symbol.
Frances Simpson, Chief Executive of Support in Mind Scotland said: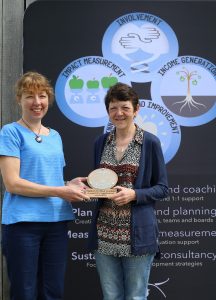 "Being involved in developing The Lasting Difference changed how I understood sustainability and removed the mystery that surrounded this 'holy grail' of funding services in a climate of austerity. I learned that sustainability is achievable and that it is not just about funding, but about quality, change and development."
Virginia Anderson, Head of Fundraising and Communications at Bobath Scotland said:
"I'm very grateful that Bobath Scotland has been awarded The Lasting Difference symbol. It's a toolkit that's easy to use and in straightforward language. It's challenged us to think beyond fundraising strategy and focus on our 'why' and 'how'. We owe it to children and adults in Scotland with cerebral palsy to ensure that we're thinking about organisational sustainability.
Use it all or use some of it, it will help you create an ongoing conversation. This symbol is an important reminder for our fundraising and communications team to revisit some simple but thought provoking questions. I look forward to being able to tell donors and partners that our charity has now been awarded this symbol."
Jane-Claire Judson, Chief Executive of Chest Heart and Stroke Scotland said: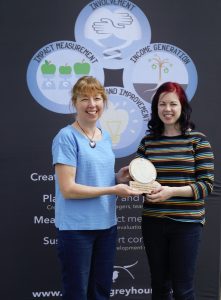 "Being awarded The Lasting Difference Symbol means a lot to Chest Heart and Stroke Scotland as we build our sustainability to deliver 'No Life Half Lived' in Scotland. The toolkit enabled our Board and senior leaders to engage in a straightforward discussion on our organisational sustainability and identify concrete actions we can take. For us it has been an excellent foundation for this work and we will be using it more widely across the organisation to inspire conversations and challenge us to be the best we can be for people living with our conditions.
The toolkit itself is clear and focused and – most importantly – usable by anyone in your organisation. You don't need special training – just a commitment to being a sustainable organisation. The symbol will be a live reminder for us to continue on our sustainability journey, to contribute to the wider issues of third sector sustainability and fellow Lasting Difference organisations."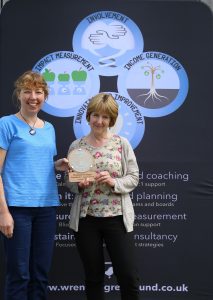 Cathy Magee, Chief Executive of Dyslexia Scotland said:
"We're delighted to be awarded The Lasting Difference Symbol as a demonstration of our commitment to the principles and practices of organisational sustainability. Dyslexia Scotland worked closely with Graeme Reekie on a series of consultation events with our members and other stakeholders about our future, as part of the development of our Strategic Plan for 2018 – 2021. Based on the insights gained through this process, our 3-year plan sets out the difference that Dyslexia Scotland will make to dyslexic people within a framework that is both ambitious and realistic. Our mission is to empower people with dyslexia to reach their potential, but to do this we need to ensure that Dyslexia Scotland is a sustainable, efficient and effective organisation and this is embedded in our plan and way of working.
As a dyslexia organisation, we found the resources and ways of working dyslexia-friendly, accessible and inclusive. I would encourage other organisations to use the practical and inspiring resources and ideas in this practical toolkit – and to  join a new community of practice, to support the ongoing challenges of sustainability in the third sector."
Kate Wallace, Chief Executive of Victim Support Scotland, concludes: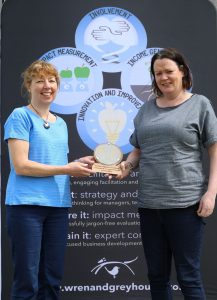 "It is great to have this recognition through being awarded The Lasting Difference symbol. Providing consistent and quality support to victims and witnesses of crime is central to our mission as an organisation. The toolkit has opened our eyes to the ways that we can ensure our sustainability and future as an organisation, which ultimately will help victims and witnesses across Scotland."
These organisations will join a new community of practice, with facilitated peer support and an annual networking event. Continuing the conversations, collaborating and innovating will be key to responding to the immediate and future challenges the sector faces. To find out more and apply to use the award, visit our dedicated page here.