The Lasting Leadership guide to sustainable charity leadership is now complete! Today we're publishing part four of the series, Lasting Leadership: Equalities. You can download the guide here, updated from the original guide following two years of further research, workshops and action learning programmes.
The challenge
Equality, diversity and inclusion are critical to sustainable leadership. If organisations and their leadership do not reflect the communities and issues they exist to serve, they run the risk of perpetuating the structural barriers they seek to address.
The practices
Different people and groups will have their own unique perspectives and experiences of the barriers they face. However, at their core, these are connected by the experience of unequal access to power. Supporting leadership equality, diversity and inclusion therefore requires non-proft organisations to:

Acknowledge that structural inequalities exist in their organisations

Listen to people's experiences with openness and humility


Commit to action at all levels of the organisation to level the playing feld.
How Lasting Leadership: Equalities can help
The non-proft sector has a real opportunity to lead the way and show the value and benefts diverse leadership brings. This starts in individual organisations and their approach to leadership. Lasting Leadership Equalities can help, with:
Straightforward principles and practices
Self-assessment – as with all our guides, the PDF comes with text entry for full interaction
Creative commons licence to encourage free sharing
Action planning template
Links to other relevant resources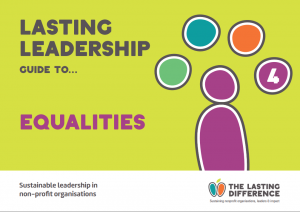 Reflections
When we wrote the first edition of the Lasting Leadership Guide in late 2019, it felt almost controversial to state that 'one day soon, we may look back on practices that are considered normal and be appalled at what was acceptable in early 21st century workplaces'. How the world has changed in two years.
The pandemic has unequally impacted different parts of our community; political polarisation has seen a rise in intolerance and division; the Black Lives Matter movement has laid bare the structural racism faced daily by people of colour; Me Too has exposed the level of sexual discrimination and misogyny experienced by women; the trans rights movement has shown equity for those in LGBTQ+ communities has a long way to go. Alongside this, toxic cultures have been exposed within non-proft organisations in several high-profle investigations and reports. These societal shifts have led to organisations becoming increasingly aware of the need not just to be non-discriminatory, but to be actively anti-discriminatory. To be involved in, and to lead on, the signifcant changes that are required to ensure society and non-proft organisations are truly inclusive and diverse.

It has also been interesting to observe the rise in interest in our own equalities work in the last two years. Initially our equalities workshop was the least requested of the four Lasting Leadership capabilities, leading us question what this meant about equality and diversity in the sector.
Did organisations think they had equality and diversity 'sorted'?
Did it make people and organisations feel uncomfortable?
Was it seen as less of a priority, always falling to the bottom of the list?
These seismic societal changes and our discussions with organisations over the last two years have been the driving force behind updating this guide. As the fourth guide in the Lasting Leadership series, we recommend you consider equity and inclusion actively across all your Lasting Leadership activities:
How could your succession planning processes support leadership equality and diversity?

How could it be built into your lateral leadership plans?

What does self-care look like through an equality lens?
Download the full series here: https://www.thelastingdifference.com/resources/lasting-leadership/