Lasting Leadership programme opens for applications
We're offering 12 subsidised places on our transformational Lasting Leadership programme. Focused on the Lasting Leadership guide, it will help participants to:
Plan succession and capacity building in their organisations
Develop their own and other people's leadership skills
Delegate and involve colleagues more effectively
Adapt to the new world of self-managing teams, distributed leadership and employee empowerment
Address leadership as a feminist and equalities issue
Prepare for stepping up or stepping on in their careers.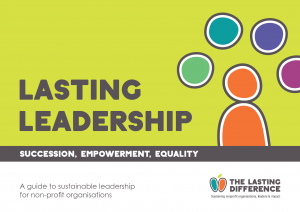 Participants say:
'It's given me a focus, I'm more intentional about managing knowledge and succession planning. It's a safe place to be real and authentic.'

'All of what I'm learning will be very valuable in my new leadership role.'

'What I find really useful has been working through things this year, with the framework as a security blanket.'

'I'm not just offering solutions anymore, but asking lots of questions.'

'Taking the opportunity to step back and reflect has been powerful. It's given me a place to be vulnerable and you don't get that elsewhere.'
Our tried and tested programme approach provides creative, challenging, constructive leadership development among supportive peers. (Follow the link to see we've achieved in powerful partnerships with funders, membership organsiations and Scottish Government).
This exciting new programme contains six full-day sessions between May and November 2021, with options for additional online participation. It's non-profit – we subsidise the fees, with extra discounts are available for our loyal newsletter subscribers and symbol holders.
Find out more by downloading the application information. Closing date: 5th April 2021.