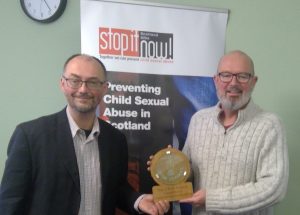 Congratulations to Stop It Now! Scotland for becoming the latest organisation to receive the Lasting Difference Symbol in recognition of their commitment to organisational sustainability.
Stop It Now! Scotland were part of a programme in 2017 which developed the Beyond Survival toolkit of resources to enable survivor support organisations become more sustainable. They took the learning from this back to their organisation and conducted a sustainability self-assessment to identify their main challenges. They now have an action plan in place and are starting to conduct self-assessments for each of their projects. As an organisation, they are embedding sustainability thinking into their work and it is now a standing item during staff development meetings.
Project Manager, Willie Manson, said,
"Integrating sustainability into our forward planning will allow us to have clear exit strategies for each project. It has also encouraged us to identify potential challenges which may threaten our long-term future and encourage us to have action plans which identify clear lines of responsibility.
It allows us to identify and consider any threats to sustainability in good time so that a potential problem does not become a crisis."
We were delighted to present Willie and National Manager, Stuart Allardyce, with their Lasting Difference plaque. They join our other symbol holders in a community of practice, with facilitated peer support and an annual networking event to support sustainability practice. We look forward to following and supporting their sustainability journey.