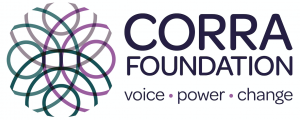 As one of the best-known funders in Scotland, Corra Foundation's mission is to make a difference to the lives of people and communities, by encouraging positive change, opportunities, fairness and growth of aspirations.
As part of their work, Corra Foundation administers funding programmes that promote awareness and opportunities that support people, families and communities affected by alcohol or other drugs. Their Partnership Drugs Initiative (PDI) has delivered grant programmes for over twenty years. In 2021, Corra Foundation became the key partner administering funding to support the National Drugs Mission on behalf of the Scottish Government.
Corra Foundation has a firm commitment to working alongside communities and organisations to share learning and expertise.
'Corra loves working with so many people, communities and organisations in Scotland and beyond. Partnership will continue to drive Corra's approach, bringing together a wealth of expertise to make a difference towards bold, shared goals.' (Corra Website)
Corra recognises the power and benefits of sharing practice, experience and expertise and offer range of networking events and capacity building opportunities to organisations within their funding programmes.
In 2022, we were invited to take part in one of Corra's learning events for organisations within their Drugs Services Fund programme. This event focused on the importance of measuring impact and how this supports organisational sustainability.
The event was popular, with over 70 people from organisations across Scotland in attendance. It involved a number of speakers as well as hearing from funded organisations about their experiences of implementing approaches to evaluation in their work.
Equally importantly, Corra created precious time and space for event participants to discuss the ideas shared in presentation inputs with peers. In-person and online discussion groups were warmly received, with event participants noting how valuable it was to get together with peers and Corra team members, to explore ideas and identify actions they could take to support evaluation and organisational sustainability.
Matthew Gilbert Straw, Programme Manager at Corra said:
'Corra know that there is a wealth of experience and expertise across the organisations in our Drug Services Fund. Creating regular opportunities to bring people together to share practice is a key part of our approach to support capacity building and sustainability in our funding programmes. We are always impressed by the open and generous sharing of ideas, practice and knowledge amongst funded organisations. There was such a great buzz on the day, with amazing inputs from funded projects. And having The Lasting Difference and Evaluation Support Scotland along too, gave people more ideas and tools to support their approaches to evaluation and organisational sustainability.'
Sustainable funders know that investment in capacity building is key to their funds having a lasting impact. As The Lasting Difference toolkit says:
'If funders are serious about their funds making a lasting difference they should invest in building capacity for sustainability.'
This learning event is a great example of the way in which funders can collaborate with funded organisations to share learning and experience, build capacity and support the sustainable impact of funding.