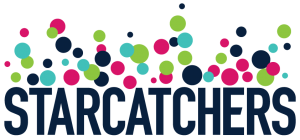 We're delighted to announce that Starcatchers, Scotland's arts and early years organisation, is the latest Lasting Difference Symbol holder. Starcatchers has been connecting with The Lasting Difference over the past three years. This year is a milestone year for Starcatchers as the organisation celebrates its 15th anniversary, providing renewed determination to embrace sustainable organisational practices.
The Lasting Difference ethos is firmly embedded in Starcatchers' work ethic with its principles guiding the organisation's approach to growth and evolution and informing some decision-making during 2020's many lockdown challenges.
The company already sees significant benefits as a result and looks forward to 2021 as a launch pad for sustainable development in the company's purpose in the years to come.
Starcatchers' Head of Development & Operations, Judith Walsh, said: "The significance of becoming a Lasting Difference Symbol holder in Starcatchers' 15th Birthday year is powerful. As an organisation we are entering a new phase of exciting activity in 2021 and our relationship with Lasting Difference is key to ensuring we build on our ambitions with sustainability at the heart."
Congratulations to all at Starcatchers for demonstrating a commitment to sustainability. You can read more here about all our symbol holders and how to get involved.