Succession planning and knowledge management
When we started researching sustainable leadership, one thing quickly became clear. Everyone we spoke to had been affected by the sudden loss or departure of a leader. It's a case of when you need to plan for succession, not if.
Your organisation and its work are bigger than any one person. Succession is inevitable and best done before it's needed. Succession planning is everyone's business. Make it part of your organisation's approach to capacity building and development.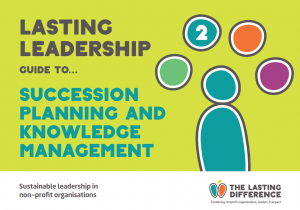 We've now updated our Lasting Leadership guide to Succession Planning. Based on two years of learning alongside sector partners in workshops, conferences and our action learning programmes, the new free guide provides:
Clear definitions and principles.
Practical ideas from real life.
Knowledge management explained – what it is, why it matters.
The succession planning templates you always needed but no-one ever gave you.
Knowledge audit template – ensuring skills for survival and sustainability.
As usual, the succession planning guide is free, interactive and shareable. Download your copy here and please share it with anyone who could benefit. It's not about whether they will need it, it's when.