How can funders best support charities? Is funding enough or should they provide capacity building support?
It might seem a no-brainer: 'Give us the money', as Bob Geldof famously said.
But every time I've reviewed a funding programme, the call from charities has been the same. Yes, more money would be nice, but what they always ask for more of is:
Support to develop their capacity
Opportunities to learn from other funded groups.
Sustainable funding at The Gannochy Trust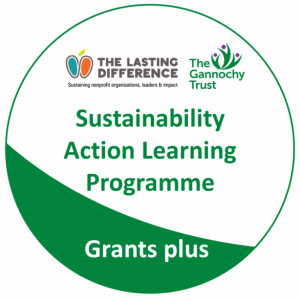 The Gannochy Trust has taken this to heart, developing a five year strategy in response to engagement from across the third sector.
"The Trust aims to contribute to the long-term viability of the organisations that we support, and build strong relationships with those that can demonstrate consistent and high-quality delivery of our funding priorities. The Trust's grants programme includes many features that make it particularly valuable within the current climate including core, project and capital funding, alongside organisational development and training through Grants Plus. The Trust is also prepared to fund organisations over several years."
What this tells us about sustainable funding
Every charity and funder can learn about funding sustainably (and sustainable funding) from this paragraph. Breaking it down, it's about:
Commitment to long-term viability – and long-term funding
Strong relationships
Consistent, high-quality delivery
Alignment to identified funding priorities
Core, project and capital funding
Organisational development support.
Grants plus: developing sustainability, building capacity
'Grants Plus' was developed in response to what the Trust heard from charities, offering a range of capacity building activities in addition to grants.
"Through our work on Grants Plus, we aim to
Support charities with developing sustainability
Enable charities in building capability
Encourage innovation and enterprise
Be a more impactful and responsive funder for the sector
And build relationships and collaboration in Perth and Kinross."
I have now facilitated two year-long action learning programmes in partnership with the Trust. These have helped over 20 funded partners to develop the Five Capabilities of sustainable charities:
Involvement
Income generation
Impact measurement
Innovation
Improvement
Here's what people say about this approach to sustainable funding:
'This has been transformational for us. In terms of income generation it is a very exciting time with lots of opportunities ahead.'

'Really helpful and launched a new approach (to impact measurement) for us.'

'Helped to identify income generation opportunities and think outside the box!'
Participants report being better able to manage capacity, by focusing on their core business and impact. A bit like funders who support sustainable funding do too.
'It helped me to focus on the long-term planning not just the day-to-day running.'

'Being more confident in setting limits on what we do. Not just jumping to do every request. Yes, we can deliver, but at what cost? Putting boundaries around that strengthens our offer and gives us confidence.'

'We will be able to review our practices and priorities, consolidating our message, moving forward with the skills and confidence to take our business to the next level.'
Andy Duncan, Chief Executive of The Gannochy Trust added:
'As a grant maker, we carry the same responsibility as every other charity to apply our resources effectively.

Listening to the needs of those that we fund and continually developing our ability to convene opportunities that build capacity, resilience and sustainability beyond funding is part of our duty, and the Lasting Difference has been a key component of the Grants Plus element of our Grants Strategy.'
More information
Download Gannochy Trust's five year strategy here: https://www.gannochytrust.org.uk/wp-content/uploads/2022/07/Gannochy-Trust-Funding-Pack-2022-2027.zip
Learn more about Grants Plus here: https://www.gannochytrust.org.uk/our-grants/grants-plus/
Find out about Lasting Difference services here: https://www.thelastingdifference.com/services-and-support/
Read more about sustainable funding in my book, Making a Lasting Difference.