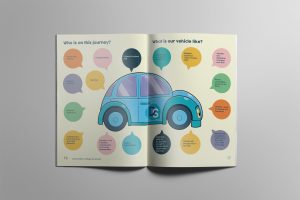 Dyslexia Scotland might be a small organisation, but it is made up of incredible people – and not just its paid staff. By working with changemakers, the organisation's new strategy (which we wrote about in a recent newsletter) extends the charity's reach and multiplies its capacity many times over. Sometimes in very surprising ways.
The charity defines changemakers as people, networks and organisations who can inspire and enable people with dyslexia to reach their full potential. The strategy has already begun to influence change not just in Scotland but around the world. Here's how.
During World Dyslexia Awareness Month (October), Dyslexia Scotland's creative campaign reached a global audience: maybe you saw it when transferring a file via WeTransfer that month?
The collaboration came about when, having researched dyslexia charities around the world to find the best fit, creative design agency Innocean Berlin approached the Scottish charity about working together.
'There's Nothing Comic About Dyslexia' was the campaign that resulted. It put the focus on Comic Sans, a font that, like dyslexia, faces prejudice. It's loathed by designers everywhere but was the perfect tool for this campaign. Because, fashionable or not, it can help people with dyslexia to read more easily.
People with dyslexia make up 10% of the population. That is 780 million people around the world. Brilliant individuals who, with the right access to information, very often go on to do brilliant things. The campaign reminded designers that there is nothing comic about a font that helps people achieve their incredible potential.
The campaign's potential was pretty incredible too. WeTransfer featured it prominently all month long on its platform, spreading the word among its international creative community of more than 87 million monthly users. See what I mean about extending reach?!
Here's how the project's partners describe it.
"Launching 'There's Nothing Comic About Dyslexia' was a no-brainer for us at Innocean Berlin. Although it is at its core an awareness campaign, it was important for us to deliver a smart take on the topic. And that was to target a very specific group, who can actually create change: designers. Those are the people who hold the power to shape information, and without the right education dyslexic individuals can often lose their creative power and self-confidence. And we can't afford that. Because these are the brilliant minds who help bring the world forward."  Gabriel Mattar, Chief Creative Officer, Innocean Europe.
By partnering with Dyslexia Scotland and Innocean Berlin, we are calling on designers to rethink the way they approach traditional design principles and create new typefaces that are not only beautiful but also dyslexia-friendly." Lina Ruiz, Head of CSR, WeTransfer.
One designer even created a brand new typeface and, in support of the campaign, made it freely available here.
"Designing with Dyslexia in mind makes you change the outlook of how you'd usually approach the task, and I hope this campaign can open the eyes of others as well to consider an audience that is sadly often excluded."  Daniel Brokstad, Design and Creative Direction, Brokstad Studio.
Katie Carmichael, Lead for Creative and Digital, Dyslexia Scotland, sums up the campaign, and the journey towards a dyslexia-friendly Scotland, this way.
"People with dyslexia can be excluded by some formats of written information and designers are key to creating more accessible styles of text. The campaign created the opportunity for designers to make a significant social impact, as well as an amazing creative one, for the dyslexic community. We hope that the campaign activates many more individuals, groups and whole sectors to take strides towards being innovative changemakers and we applaud the design community for being bold trailblazers on the journey to a more dyslexia-friendly mindset."
View the campaign's creative visuals, clever animation and powerful messages here:
https://www.nothingcomicaboutdyslexia.com/
Find out more at Dyslexia Scotland's news page:
https://dyslexiascotland.org.uk/news/new-international-dyslexia-campaign-speaks-directly-to-the-design-sector/
Read the WeTransfer case study here:
https://wetransfer.com/corporate/218805-there-s-nothing-comic-about-comic-sans-wetransfer-to-support-a-new-campaign-for-dyslexia-awareness-month
Download Daniel Brokstad's creative new font here:
https://www.nothingcomicaboutdyslexia.com/inconstant-regular