[vc_row][vc_column][vc_column_text]The Scottish Independent Advocacy Alliance (SIAA) are the latest organisation to have been awarded the Lasting Difference Symbol. SIAA joined us for our programme of online Lasting Difference workshops in 2020.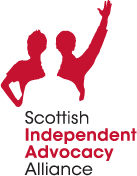 The team have been able to align their main sustainability challenges to the toolkit's capabilities of Involvement and Impact Measurement. In the light of COVID-19, they have reviewed their capacity for policy engagement and re-focused on the support they give to member organisations. This, in turn, has provided more credible evidence for their policy work. Having aligned their impact measurement to a pre-existing framework designed for intermediaries, they have developed data collection tools around this. This has resulted in positive feedback from funders about the value of their approach to reporting using impact data.
Rhona Willder, SIAA's Development Officer told us
"As a small organisation, the way we keep organisational sustainability as a central consideration has been to have regular discussions internally and with the board around member involvement and impact measurement and shape our work plan around member feedback. We're thrilled to be awarded the symbol and to be part of the Lasting Difference community."
Congratulations to all at SIAA for demonstrating their commitment to sustainability. Find out more here about our expanding group of symbol holders and how to get involved.