Making a Lasting Difference, Graeme's newly-released book, is an urgent exploration of organisational sustainability. Based on the Lasting Difference toolkit, it's a long-form exploration of sustainability. It explains the main challenges to survival and growth in helpful new ways, illustrating why they are more complex – but more manageable – than we might think. Buy the 220 page paperback here to support small independent businesses, or from Amazon where it is also available in Kindle edition.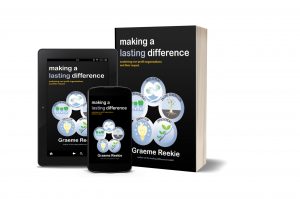 The book begins with a fresh analysis of the challenges of managing non-profit organisations, with a uniquely insightful set of paradoxes that will be recognisable to anyone who works in, manages or funds a charity, social enterprise or public body of any kind.  Offering creative insights and straightforward definitions, the book introduces the five capabilities of sustainable organisations and the steps that can be taken to achieve them:
Involvement
Income Generation
Innovation
Improvement
Impact Measurement
The book is grounded in practice, containing practical models, methods and tools for assessing and addressing sustainability, with straightforward examples and illustrations. It concludes with an analysis of appropriate exit strategies that can be adopted by any project or organisation and a reflection on the importance of sustainable leadership, identifying new ways to lead our organisations and sustain ourselves.
With a focus on action, Making a Lasting Difference identifies clear strategies for policy makers, commissioners, funders, trustees, managers and staff, all of which are rooted in Graeme's deep sector expertise developed over 30 years. Much of the book's content has been crowd-sourced and tested in workshops, conferences and events over the last five years.
Graeme has become synonymous with the topic through the Lasting Difference toolkit and extensive consultancy practice since 2006. With over 5000 copies now in circulation in the UK, and with a growing international reputation, this valuable resource is changing the way we think about – and act on – sustainability.
Making a Lasting Difference, to be published on 29th April, makes significant new contributions to the core themes of why and how organisations – and a viable non-profit sector – can be sustained. Buy it from the links above and let us know what you think of it! Honest reviews on Amazon would also be a huge help.