This week we launched the Lasting Leadership guide to a full-house at the Gathering. It was fitting that its core messages about managers letting go of control and empowering their colleagues were delivered by Jen. Apart from anything, this let me listen and learn, while watching how the messages went over with our 100 guests.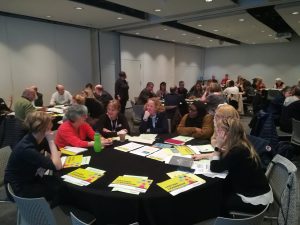 As with the organisational sustainability paradoxes, everyone recognised the core challenges of sustainable leadership: lack of time, lack of self-care and organisations that don't always embody their own values of social justice. Likewise, you could see how many practical ideas people got from our work on succession planning, lateral leadership and next generation leadership. Notes were made, screenshots were taken and tweets flew.
And no wonder. Although we've been researching and working on this for over a year, it was really only when Jen set it all out, point by point, that I realised just how much depth and material the new guide provides. We have full-day workshops planned on each of the four capabilities, including some at a reduced rate with ACOSVO, and even that might not be enough! There's very vital stuff here.
But when it came to the facts about the inequality and lack of diversity in the sector, that's when there was more surprise on people's faces. Yes, we know that two thirds of the workforce are women and two thirds of the trustees are men. But for 7 in 10 Scottish charities to have a gender pay gap in favour of men, in 2020, will never stop being a startling truth. Or rather, it will hopefully no longer be true.
We're not setting out to be the experts in gender or equalities – thankfully there is already lots of expertise out there, which we signpost people to in the new guide. But we have made the commitment never to talk about leadership without talking about the core principles and we will keep providing resources and encouragement for others to do the same. Download the comprehensive new guide here.